Posted on Tuesday, January 18, 2022 11:07 AM
Notice from Hydro One regarding Forestry Work 2022,
"Hydro will be doing some routine forestry work in the Ottawa, Calabogie, Town of Arnprior, Mississippi Mills, Mcnab, Braeside & Lanark Highlands. This work will involve the trimming of trees. Anything that will grow within 1 ft of the distribution hydro line in a 3 year period of time. These will have a yellow or lime green dot on them. Hazard trees will also be removed; dead, diseased or dieing trees leaning at the hydro line will also be...
Posted on Friday, January 14, 2022 09:15 AM
YOU ARE INVITED to a Virtual Open House for the
Greater Madawaska Comprehensive Zoning By-law Project
Date: Wednesday, January 26, 2022
Time: 4:30 to 5:30 pm
Zoom Link: https://us02web.zoom.us/j/84553719444?pwd=ek5EeUc4MW1laGVOZThHUDIwTWVVQT09
To view a PDF copy of the notice please go to the Planning and Development page in the Business and Development section of the website.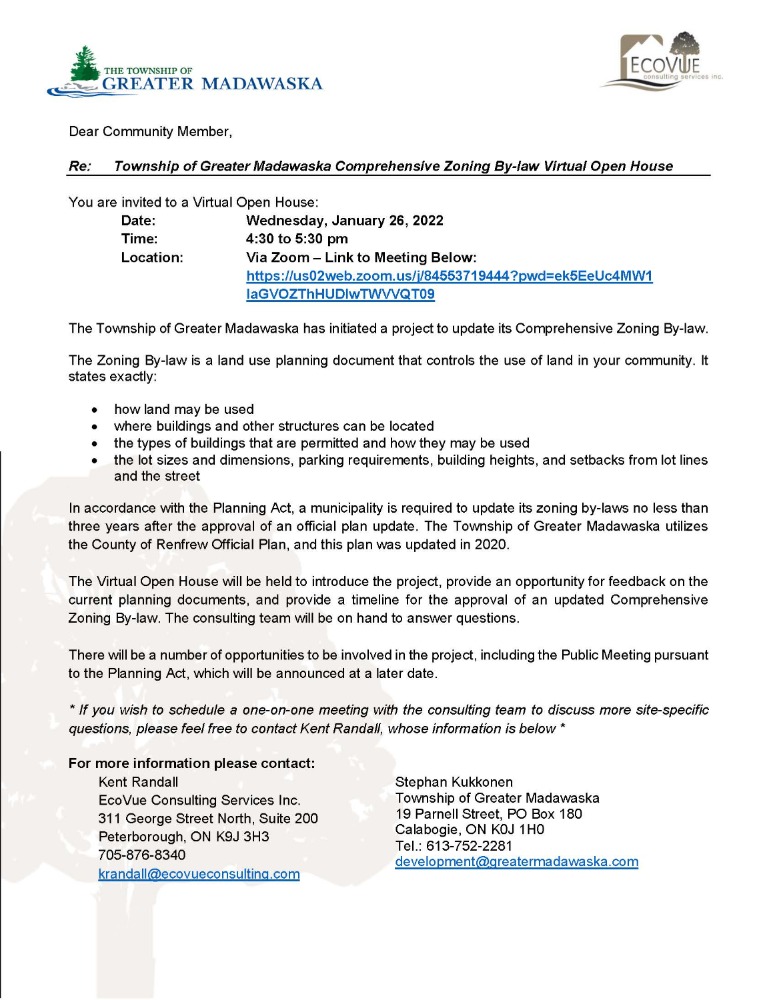 Posted on Monday, January 10, 2022 04:02 PM
Public Notice
Adoption of 2022 Municipal Budget Notice is hereby given that the Council of the Township of Greater Madawaska intends consider adoption of the 2022 Municipal Budget in accordance with Section 290 of the Municipal Act 2001, at the Regular Meeting of Council to be held Monday, January 17, 2022 at 5:30 p.m. The meeting will be livestreamed on YouTube. The Agenda and YouTube link will be available on the Township website www.greatermadawaska.com .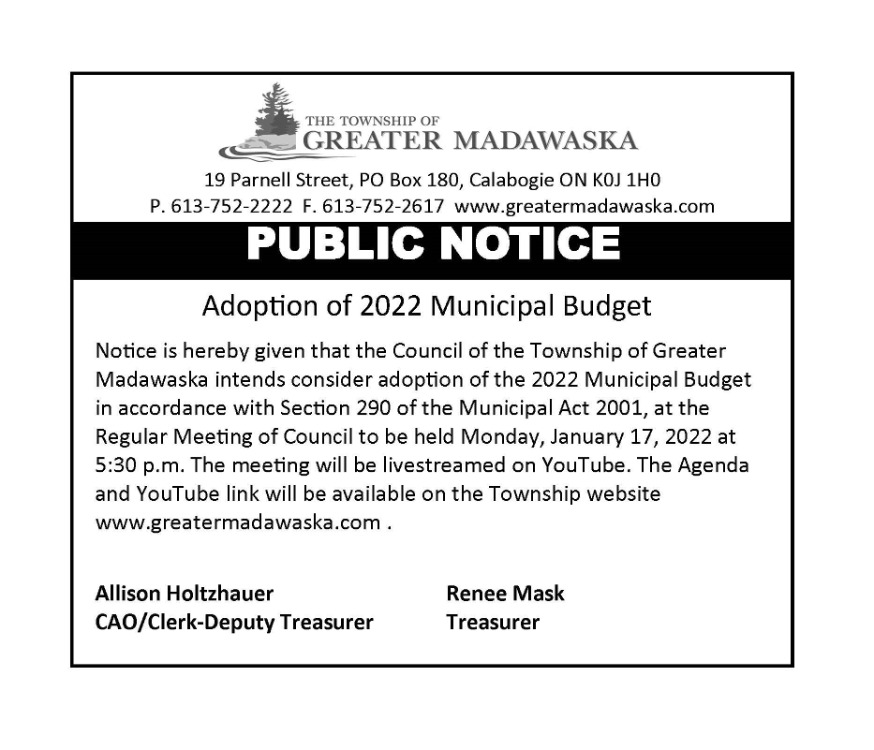 Posted on Thursday, January 06, 2022 11:28 AM
UPDATE regarding the 2022 Greater Madawaska Skating Program.
Due to the recent COVID-19 restrictions announced by the Province, we have had to make the decision to postpone the Skating Program.
This postponement is made in the hopes that the restrictions will not be extended by the Province.
The new program dates are;
Thursday February 3, 10, 17 and 24.
Times vary depending on program. Times and costs are listed on the registration form
Please submit completed form and payment...
Posted on Tuesday, January 04, 2022 11:14 AM
On January 3, 2022, the province announced returning to the modified version of Step Two of the Roadmap to Reopen, effective Wednesday, January 5, 2022, at 12:01 a.m. for at least 21 days (until January 26, 2022), subject to trends in public health and health system indicators.
As a result of this announcement the Township of Greater Madawaska has implemented the following proactive measures:
The Township Office will be open regular hours, however:
Subscribe to this page