Posted on Thursday, September 01, 2022 10:39 AM
Ferguson Lake Road as been re-opened EFFECTIVE August 31, 2022 at 7:30 p.m.
Notice of Road Closure - Ferguson Lake Road
August 30 & 31, 2022
Ferguson Lake Road will be closed between County Road 508 (Calabogie Road) and Campground Sideroad for a culvert replacement.
Detour Route via Norton Road and Whelan Road.
In the event of inclement weather, the dates will be changed.
If there are any questions or concerns please contact
Steve Inwood, Public Works Supervisor
by email or by phone 613-752-1442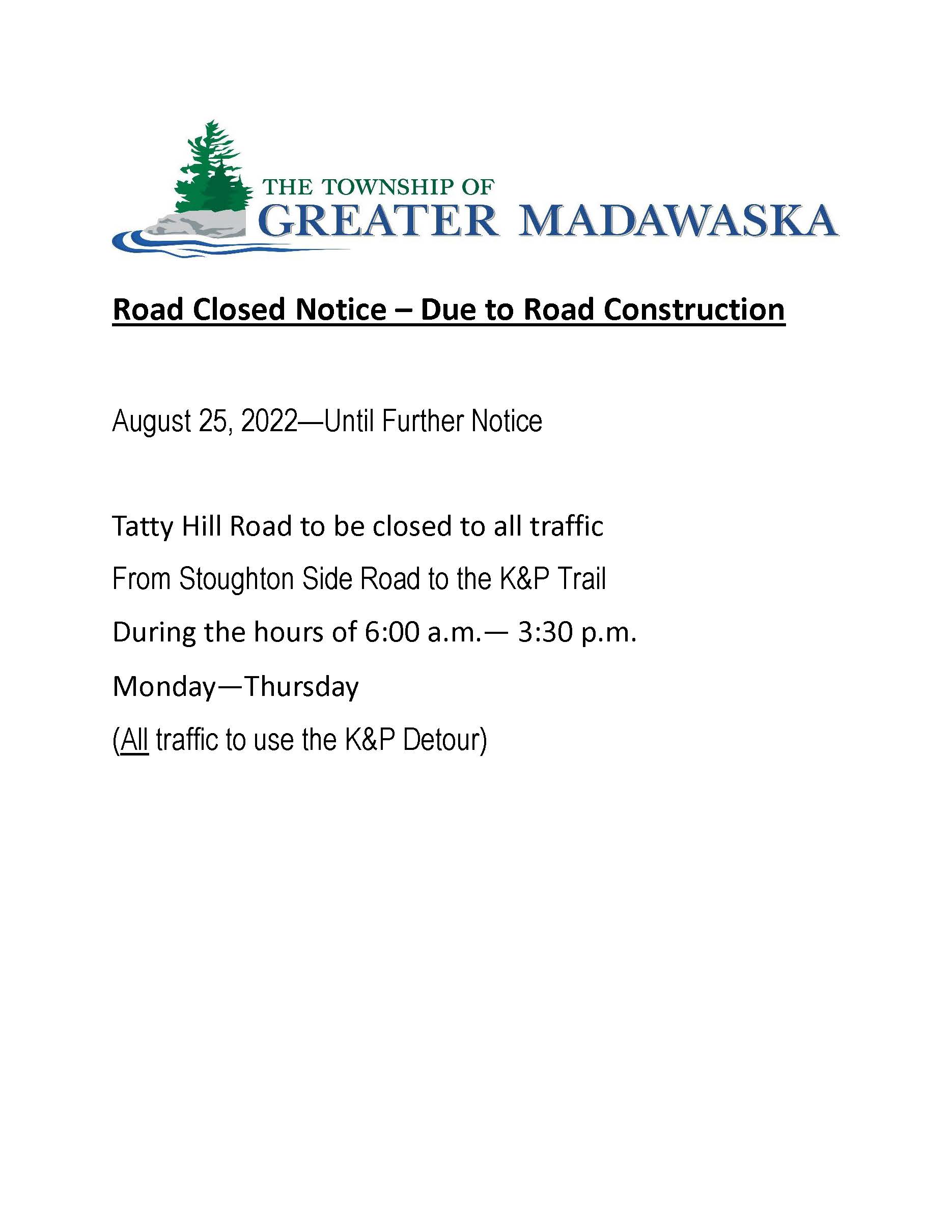 Posted on Wednesday, August 24, 2022 12:14 PM
Road Closed Notice - Due to Road Construction
August 25, 2022 - Until Further Notice
Tatty Hill Road to be closed to all traffic from Stoughton Side Road to the K&P Trail during the hours of 6:00am to 3:30pm, Monday to Thursday.
ALL traffic to use the K&P Detour.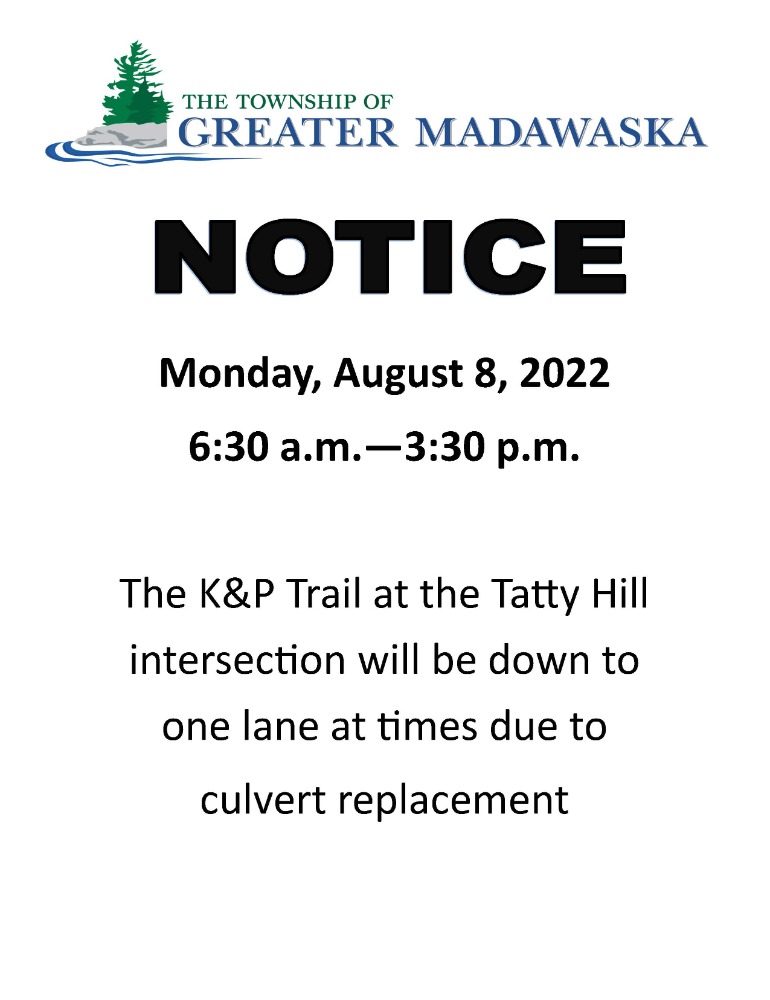 Posted on Wednesday, July 27, 2022 11:32 AM
NOTICE
Monday August 8, 2022
6:30am-3:30pm
The K&P Trail at the Tatty Hill intersection will be down to one lane at times due to culvert replacement.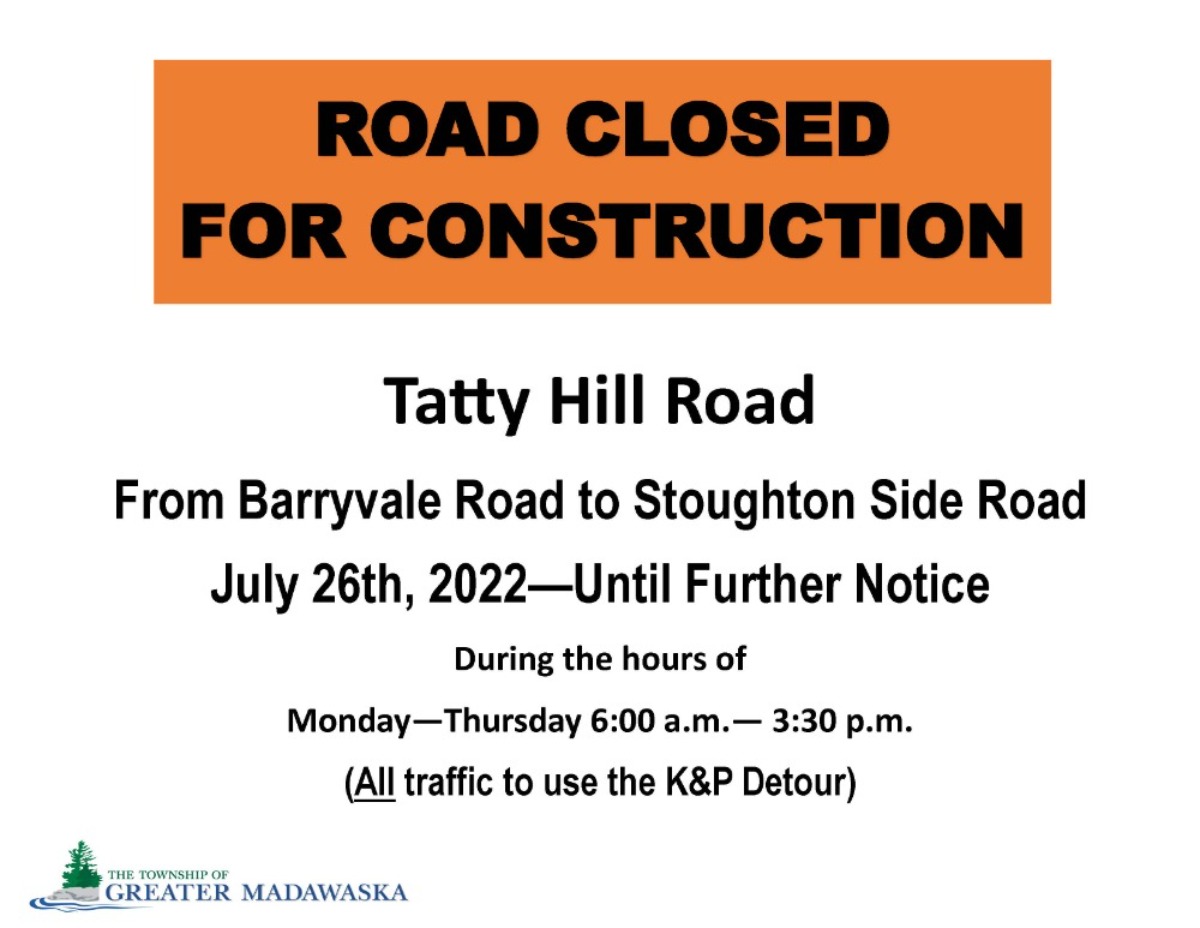 Posted on Monday, July 25, 2022 02:02 PM
UPDATE - NOTICE of ROAD CONSTRUCTION, Tatty Hill Road closed for construction, from Barryvale Rd to Stoughton Side Road, July 26th, 2022—Until Further Notice. During the hours of Monday—Thursday 6:00 a.m.—3:30 p.m. The road is closed to ALL traffic (with the exception of Emergency Services) (ALL traffic must use the K&P Detour)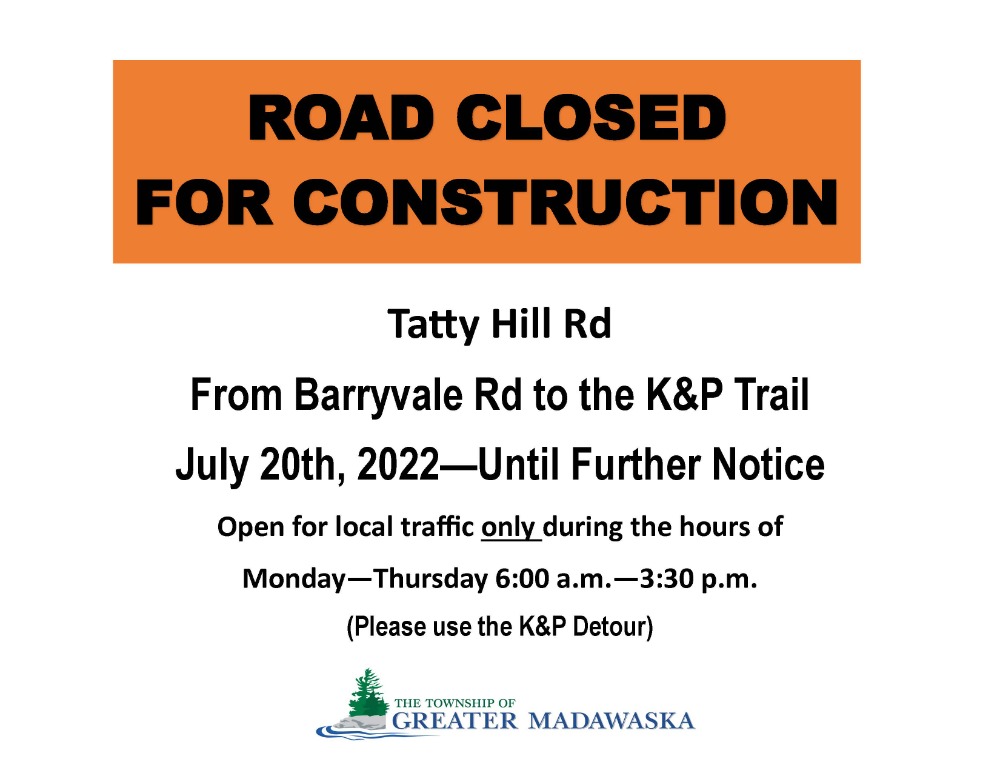 Posted on Tuesday, July 19, 2022 03:30 PM
NOTICE of ROAD CONSTRUCTION, Tatty Hill Road closed for construction, from Barryvale Rd to the K&P Trail, starting July 20th, 2022—Until Further Notice. Open for local traffic only during the hours of Monday—Thursday 6:00 a.m.—3:30 p.m. (Please use the K&P Detour)
Subscribe to this page