Council Members
Meet your 2022-2026 Members of Council.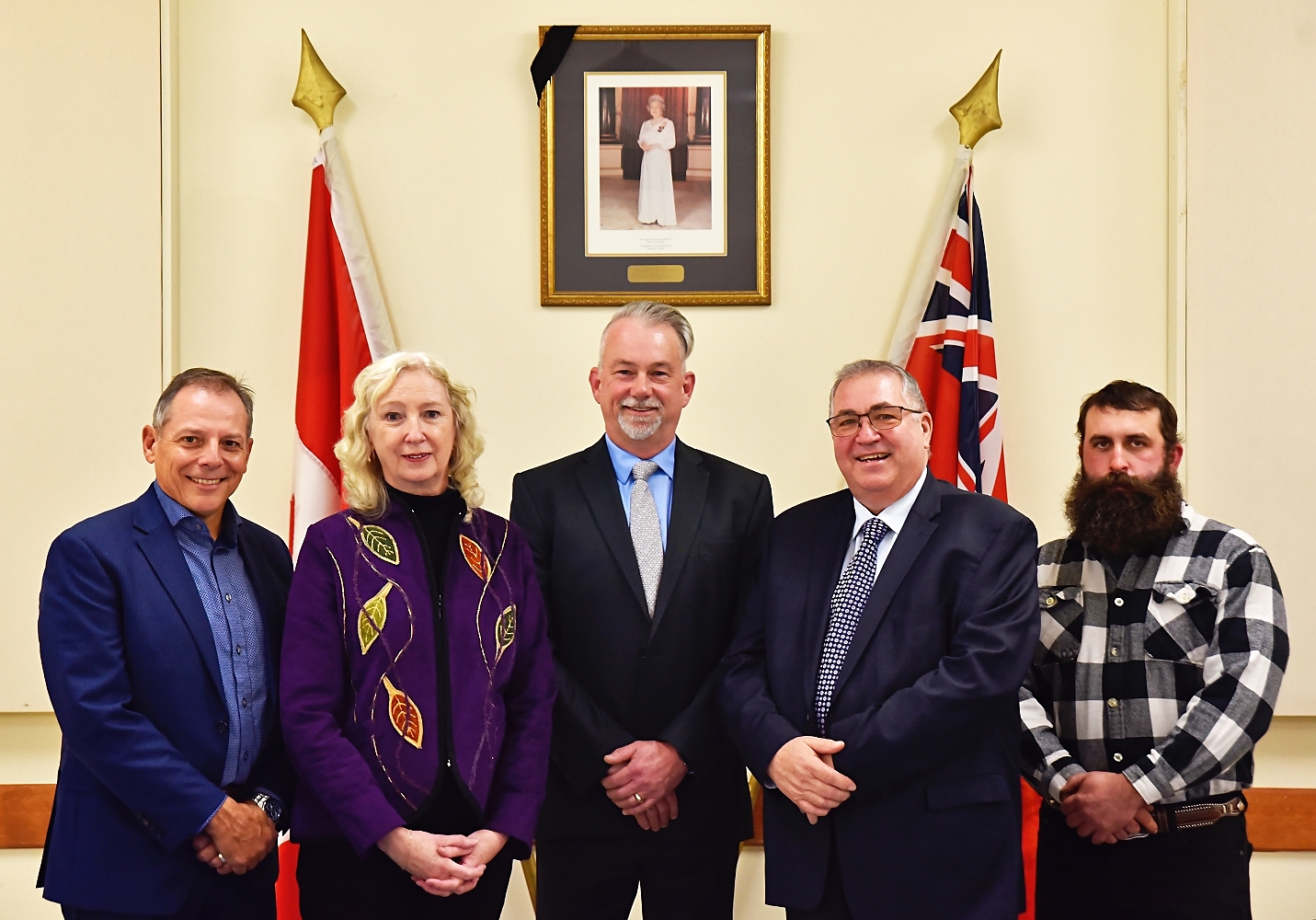 (From left to right, Councillor Jeff Levesque, Councillor Lois Thomson, Mayor Rob Weir, Councillor Rob Tripp, and Councillor Taylor Popkie)
Mayor Rob Weir
Contact Mayor Weir by email or by phone 613-433-1313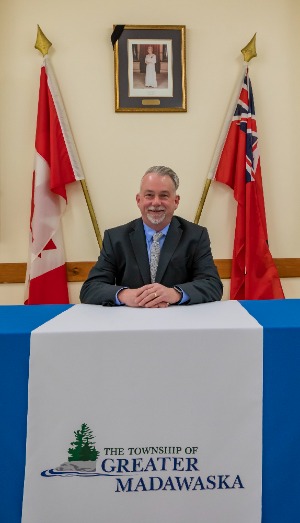 Rob was born and raised in Scarborough Ontario in a multi-cultural environment. He has been married for 30 years and has two children. After decades of vacationing in Greater Madawaska Rob and his family moved to the Township in 2018, quickly becoming active members of the community.
Rob has 30 plus years of senior management experience to bring to the job of mayor. He has a professional background as a police officer and corporate leader in the private sector. Rob has received a St. Johns Ambulance Lifesaving award, Merit Mark and Commendation by the Toronto Police Service Board.
He is a Past President of the Calabogie Lions Club. He enjoys skiing, kayaking, canoeing and photography. Rob was a member of the Canadian National Police Ski Team for 2 years and spent numerous years coaching and as a trainer for Hockey, Football, Softball and Rugby.
Councillor Ward 1 Jeff Levesque
Contact Councillor Levesque by email or by phone 613-862-7154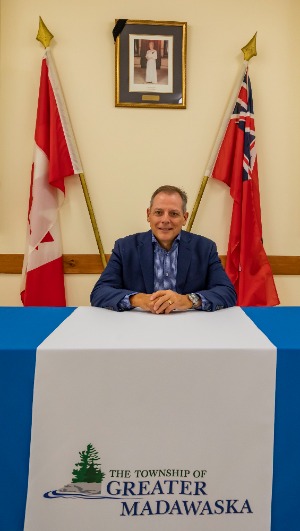 Jeff and his wife Leah first settled on Calabogie Lake upon building their 4-season home in 2002 and have now been full-time residents since April 2020. They have two grown daughters who grew up enjoying the Calabogie experience and as their family continues to grow, so does their enjoyment of this beautiful place they call home.
Born and raised in Carleton Place, Jeff has a long connection with the Ottawa Valley. His parents and relatives grew up in Arnprior & Pakenham. Jeff retired November 2019 with over 35 years in Information Technology, leading IT Infrastructure organizations in private and public sectors in the Ottawa area with responsibilities across Canada and abroad. Throughout his career, he successfully led significant organizational and technological change. You may browse Jeff's LinkedIn Profile or his Website for more info.
Growth and change will continue to be a constant for Greater Madawaska. As one of your representatives on Council, Jeff has a keen interest in contributing to our community and helping our township and residents meet our current challenges and future opportunities.
Jeff looks forward to working with Council and Township colleagues, residents and businesses to work as one team to strengthen our community and he is humbled by your confidence to represent you and our Township over the next 4 years and beyond.
Councillor Ward 1 Rob Tripp
Contact Councillor Tripp by email or by phone or text 613-853-1037
As a long-time resident of Calabogie, Rob is passionate about engaging the community in major decisions that impact the Greater Madawaska Township, drawing strength and inspiration from being part of our community.
After decades of participating on public, private and electoral committees, and Boards of Directors at local, national and international levels, Rob brings much needed experience in strategic policy, governance and executive leadership to Council. He has provided financial leadership to private and public institutions with budgets ranging from $100K to $55M. He champions strategic planning to align limited resources to organizational priorities, and provides leadership through board membership, and philanthropic engagement in our community. Rob holds a Certificate in Business Management and Leadership from University of Ottawa, a BA in Criminology from Carleton University, and a Diploma in Law and Security from Algonquin College.
Councillor Ward 2 Taylor Popkie (Deputy Mayor)
Contact Councillor Popkie by email or by phone 613-433-4457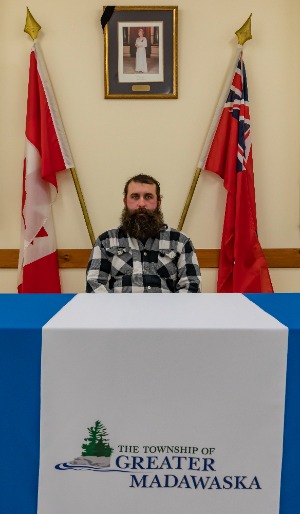 Taylor hails from Black Donald, where his family has called home for generations. He is a true local lad who grew up hunting, fishing and just enjoying the great outdoors. He is the middle child of three, and has always been older beyond his years.
Trees are one of Taylor's biggest passions, thus he started his own tree removal and tree care business around the area. On top of that, he marks timber for a local logging company, helps his parents run their cottage resort, and many other things in between. Needless to say Taylor is a busy guy, but when it comes to fun, no one has more fun then he does!!
Taylor loves helping people when he can, and still believes a handshake means something. He felt it was time to give back to the community, so here he is.
Winter is his element, laughter is his medicine, family is his everything.
Councillor Ward 3 Lois Thomson
Contact Councillor Thomson by email or by phone 613-333-9399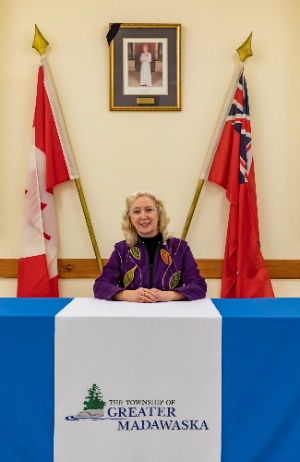 Writer, graphic designer, marketer, communicator, puzzle enthusiast, problem solver
Lois is involved in the community wherever she lives and is happy to have been able to do so in the Griffith and Matawatchan area since arriving here 20 years ago. She lives in Matawatchan with her husband Mark, who is a descendent of the area's first settlers, and who shares her passion for its history. She ran for Greater Madawaska Mayor in 2018 and although she didn't win, her discussions with constituents gave her insights into the workings, issues, and hopes for the future in all areas of the township, noting how much better all wards are when they work together for the benefit of everyone.
Work History:
Continuity Director, CTV North Bay – 1 year (1978)
Commercial Production Manager, CTV Ottawa – 25 years (1979).
Co-owner, Reel Impact Communications – 20 years (2002)
Co-publisher, editor, Madawaska Highlander – 7 years (2014)
President, Matawatchan Hall Board – 6 years (2015)
Matawatchan Cultural Centre – 3 years (2012)
Business Development Cell & Internet Committee of Council – 4 years (2018)
Ward 3 Griffith and Matawatchan Recreation Committee – 6 years (2013)
Cloyne and District Historical Society Patron – (2021)
Subscribe to this page