Posted on Thursday, June 23, 2022 01:07 PM
NOTICE of Road Work - Hydro Dam Road
On Thursday, June 30, a culvert will be changed on Hydro Dam Road between Black Donald Road and Wabun Lake Road. The Road will remain open with possible wait times when the road is down to one lane.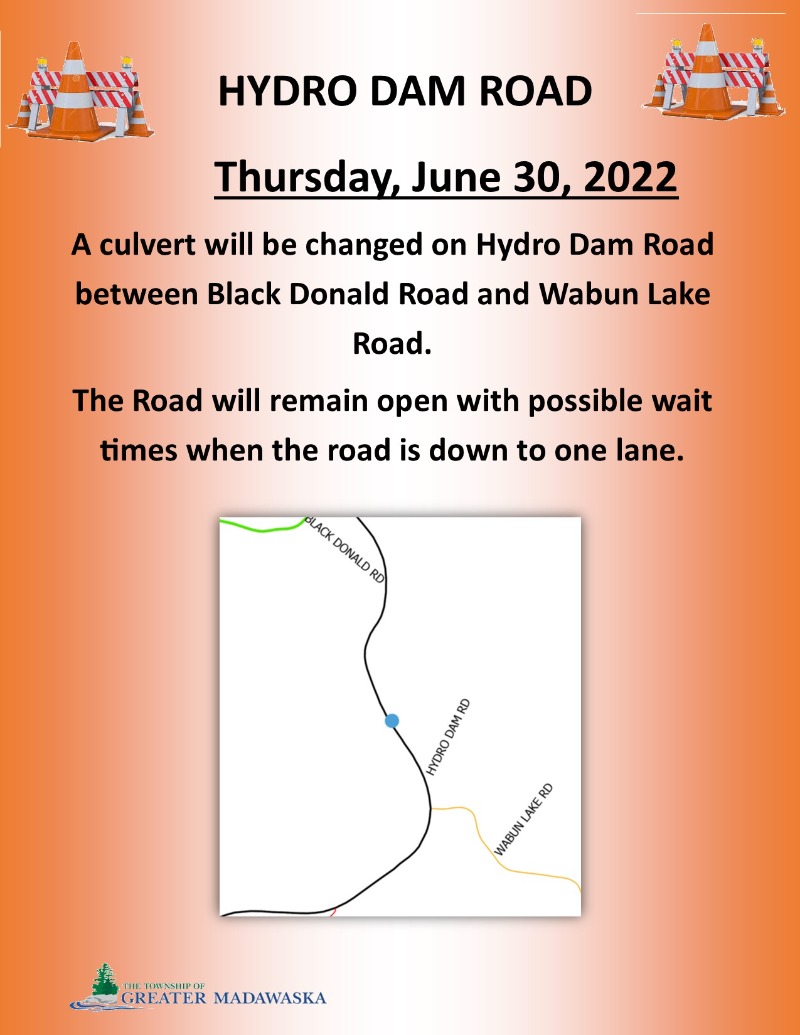 Posted on Tuesday, June 14, 2022 01:36 PM
Public Notice of Road Construction - County of Renfrew
REHABILITATION OF COUNTY STRUCTURE B057 (MOUNT SAINT PATRICK BRIDGE) IN THE TOWNSHIP OF ADMASTON/BROMLEY
As you may be aware, beginning in June 2022 the County of Renfrew will commence construction on the Mount St. Patrick Bridge (B057) in the Village of Mount St. Patrick.
WHO: The County of Renfrew has retained the firm, Coco Paving Inc., to complete the construction works.
WHY: The bridge must undergo a rehabilitation in order to...
Posted on Friday, June 10, 2022 03:00 PM
Starting Saturday, June 11, 2022, users of the Madawaska River - between Calabogie Generating Station (GS) and Stewartville GS - may notice lower water levels as Ontario Power Generation (OPG) will utilize an expanded forebay range at Stewartville Generating Station (GS) for the foreseeable future (1-3 weeks) as recent rainfall has increased inflows.
OPG requires this range at Stewartville GS for added contingency (storage) to mitigate any high water levels at the facility due to increasing inflows....
Posted on Wednesday, June 08, 2022 09:23 AM
Please be advised that Pickleball is cancelled for Thursday June 9, 2022, and will resume Tuesday June 14, 2022.
Posted on Tuesday, June 07, 2022 09:18 AM
Canada Day 2022 in Greater Madawaska is going to be great!
Three communities have events planned for tons of family fun!
DACRE Friday July 1, 2022 1pm-Dusk
DACA Centre 111 Flat Road, Dacre
Minnow races, Bouncy castle, prizes, Canada Day Quiz, Balloon making, Horseshoe Tournament, Card Games, Fireworks, BBQ, snacks, Canada Day Cake.
For updates and more information, check the DACA Centre website and Facebook page.
CALABOGIE Friday July 1, 2022 8am-11am
Calabogie...
Subscribe to this page