Exciting News!
The 2023 Volunteer Appreciation Awards Recipients have been chosen!
Congratulations go to Sue Slattery for the Senior Category Award and to the Calabogie Lions Club for the Group Category Award!
We celebrated with them and thanked them for their generousity on June 27, 2023 at 6:00pm at Barnet Cottage.
2023 Volunteer Appreciation Awards Program Information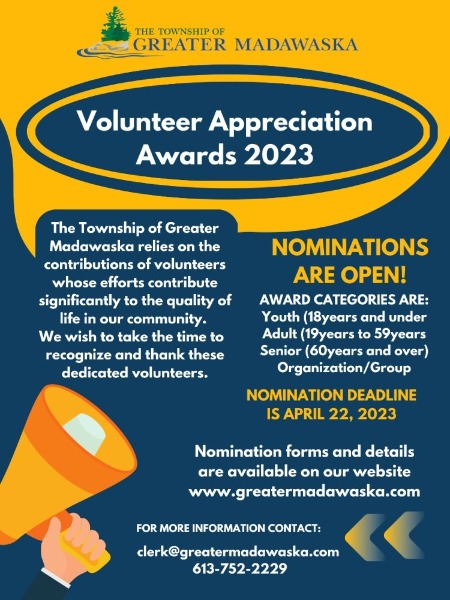 The Township of Greater Madawaska is now accepting nominations for the 2023 Volunteer Appreciation Awards.
We rely on the contributions of volunteers and their organizations whose efforts contribute significantly to the quality of life in our community. We see volunteers supporting family, friends, neighbours and strangers, and we recognize the value of caring, compassion and community engagement that is shown regularly in Greater Madawaska.
The Township would like to take the time to celebrate, recognize and thank volunteers, and at the same time create awareness for the important work that many people do in and for our Township.
The Awards will be presented at Canada Day Events in Calabogie, Matawatchan, and/or Dacre.
Nomination deadline is April 22, 2023, which marks the last day of National Volunteer Week 2023.
Nominees must be a resident or own a business in the Township of Greater Madawaska. Achievements and contributions must be made on a volunteer basis and not for pay.
Township of Greater Madawaska, 19 Parnell St, Calabogie ON, K0J 1H0
or by email to:
Include with your nomination form, a nomination letter, less than 500 words, typewritten, if possible, which describes the volunteer activities and why the individual/group being nominated deserves to be recognized for their contributions to our community. Additionally, include the goals and objectives of the individual or organization nominating the volunteers to assist with the application. Please be advised the information contained in the letter and on the nomination form will be considered by the Township and if the nominee is chosen, the information will be used to produce the recognition information.
One award will be given for each of the following four categories:
Youth (18 years and under)
Adult (19 years to 59 years)
Senior (60 years and older)
Community Organization/Group
.
Award of any nominee is at the sole discretion of the Township. Nominees chosen a recipients will be invited to attend the Canada Day Event in the Ward of their choice, where they will be recognized and thanked.
.
Any questions can be directed to the Deputy Clerk by phone 613-752-2229 or
email
.
2023 Recipients
Youth - na
no nominations received
Adult - na
no nominations received
Senior - Sue Slattery
Sue has tremendous community spirit and has been an active volunteer in Calabogie for many years. Sue works tirelessly for her community helping and organizing activities for both adults and children.
Sue's vision is to inspire community spirit, encourage imagination and reading in children, and support local businesses.
She is a strong supporter of children's learning through reading and has been instrumental in organizing and participating in French and English reading programs at St Joseph's elementary school. Her involvement with the school has been extensive over the years. In addition to the reading programs, she helps with lunches, graduation, and craft projects, providing materials and lessons and inspiring creativity and imagination in the children of our community.
For several years on Canada Day, Sue has been found on Madawaska Street in the Bash tent with her crew of volunteers. The bash tent is a "medical tent" for stuffed animals. Children bring their well-loved toys in for medical assessment and repairs. Sue always makes sure to have extra teddy bears on hand for kids that come without theirs so they can all participate. This Canada Day activity is always a great hit with the children.
Many years ago Sue brought together a group of people for the purpose of meeting for lunch to practice speaking French. The aim of the French group was to give the members an opportunity to speak French in a social setting assisting them in retaining or improving their French language skills.
Along with french and school and teddy bears, Sue also makes time during the Christmas season to organize baking for the families that make use of the Food Bank services. Her talents and generosity cover a wide range.
For Sue's latest project she has devoted an enormous amount of time in creating and maintaining the Enchanted Woods in Barnet Park and installing gnome, fairy, and elf doors along the path and at many local businesses around the area. She has written stories about the characters who live at each site and these stories are shared on her Calabogie Enchanted Wee Folks Facebook page. Parents and grandparents, local or from afar, come to visit the magical Enchanted Woods with their kids and grandkids. The Enchanted Path has become a favourite destination for both community residents and visitors. She is spreading joy, smiles, giggles and happiness wherever her gnomes and fairies show up.
Just as her gnomes and elves share positive messages, Sue has made a positive impact on our community and we thank her for all she does.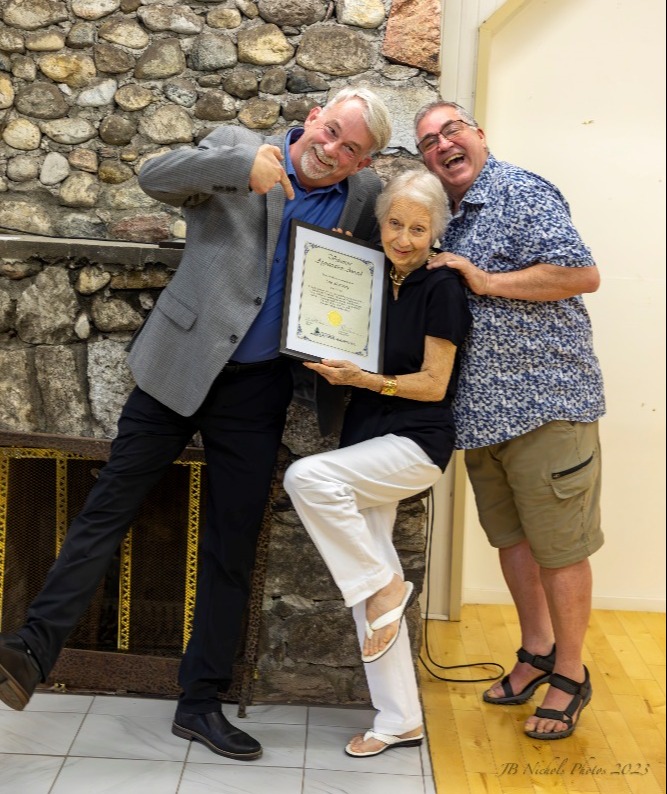 Group - Calabogie Lions Club
The Calabogie Lions Club was chartered in 1952 and celebrated their 70th anniversary last year. Several current members have been active in the club for over 30 years and continue to serve and volunteer their time for numerous events and causes benefitting our community. Whether a new member or long-term, they all hold something in common, their desire to give, share, and help in their community.
The goal of the Calabogie Lions Club is "to encourage service-minded people to serve their community without personal financial reward, and to encourage efficiency and promote high ethical standards in commerce, industry, professions, public works and private endeavors." This goal is evident and achieved through the Club's actions and their ongoing presence in the community.
Within the structure of the Club, members hold positions with specific responsibilities. Club treasurer, president, vice president, Lions Club International Foundation coordinator, lion tamer, tail twister, membership chairperson, director, secretary, and more. Some members have held numerous positions and have moved through the ranks over the years. The club is full of community leaders, men and women, all building relationships and improving the world through kindness.
The club's many activities and community initiatives have served thousands of individuals over the years. Always there to lend a hand and contribute to community spirit, the Club's efforts are constantly visible.
Listing the events and activities that the Calabogie Lions Club has participated in is a difficult task; santa claus parade, Canada Day, winter carnival, pancake breakfast, bingo, easter egg hunt, St. Patrick's Day, Raise the Roof hockey tournament, Halloween walk, Father's Day raffle, community garage sale, community cleanup contest, catch the ace, Light up Bogie nights contest, election debates, and I'm sure there's more. In addition to these the Club has awarded the George Law Educational Bursary to graduating high school students entering post secondary education, it funds the Barnet Park summer student employment position, and donates to multiple valuable community groups and programs.
The Club leads, serves, and supports our community and we thank them for all they do.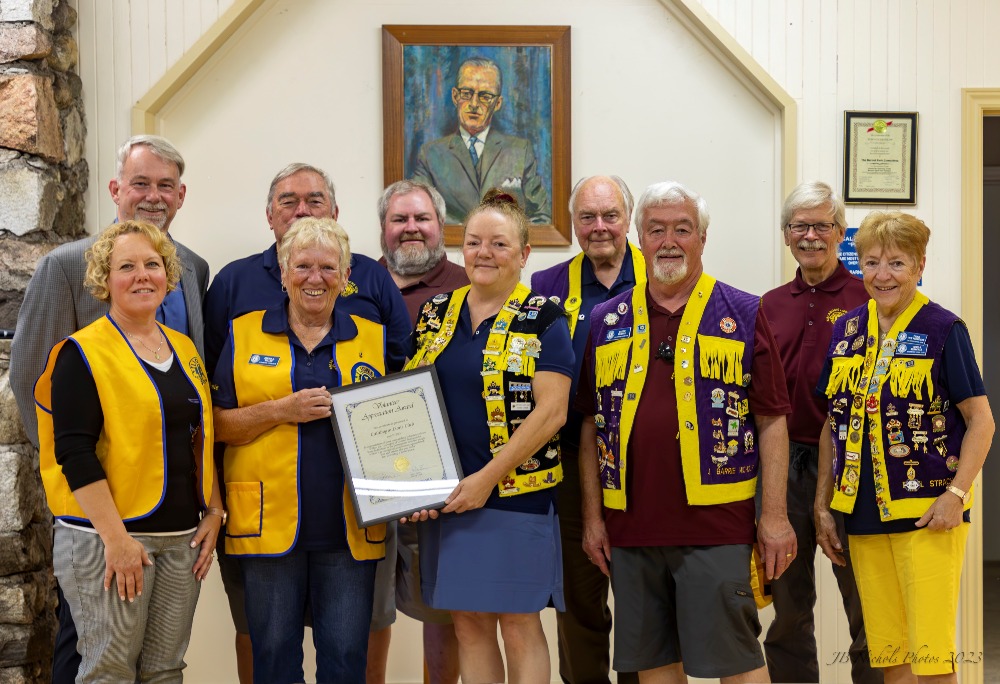 2022 Recipients
The 2022 Award recipient for the Senior Category was Jean Libbey and the 2022 Award recipient for the Group Category was the Calabogie Food Bank.
At the Calabogie Canada Day Event, the recipients were presented with a Certificate of Appreciation, by Councillor Perrier, on behalf of the Township. The certificate represents the Township's appreciation of their outstanding volunteer efforts within the Township and their dedication to the community and the people within it. Their efforts are recognized and forever appreciated. They and others like them make the Township a better place.
We did not receive eligible nominees for the Youth and Adult categories this year. Keep that in mind for next year!
Youth - na
no eligible nominations received
Adult - na
no eligible nominations received
Senior - Jean Libbey
The following are quotes from the nomination forms that were submitted for Jean and show what a valued volunteer that Jean truely is.
"Jean is a stanch supporter across many sectors of our community. She tirelessly provides leadership, mentorship and labour to many groups through a variety of positions; ranging from chair, president, volunteer (worker bee) or simply "friend" providing a helping hand to many of our community organizations. She has been active in her leadership at Club 55+, St Andrews United Church, and mentorship/support to the Food Bank, Calabogie Seniors Support and the Library.
In addition to supporting the organizational support agencies in our community, she is a tireless contributor and supporter to many individual needs. During the Covid outbreak she made a conscious effort to reach out to many who were impacted and needed social connections – through simple phone calls, or through the United Church network.
Her continuity and experience in many community events contributes to their success: most specifically, her role in the Canada Day 2022 preparations. Her ability to bring to the committee past experiences, knowledge of community networks, share experiences of what has worked well, problem solving, volunteers need assessments, and her ability to bring about collaborative partnerships and volunteers has significantly contributed to the organizational success of the upcoming Canada Day event.
Jean exemplifies the strength and success of our community – one where we come together as a team to address challenges, a team to share the work load of "getting things done" and as a team to celebrate our communities' strengths and successes.
Her days are filled with phone calls from a cross-sector of our community seeking advice or asking for her energetic energy to join in making things happen. Her collaborative nature and ability to bring people together coupled with her infectious energy continues to make our community a better place to call home."
"Jean has been actively involved with our club for many years. She initially volunteered as Dining Chair with our club and then she took on the role as Vice-President. Over the past four years, she has served as our President. Our Club is what we make of it -not more, not less. For some, it is a nice venue to meet socially at frequent intervals which serves to form new friendships, strengthen old ones and welcome new residents.
Jean solicits input and ideas from the members of the executive team and encourages active participation at all of our events. She has a positive mindset, and she sees opportunities instead of obstacles. Her positive attitude and optimistic outlook inspires people to get involved. Her involvement in our club extends to other sub-groups, namely the Monday craft group and the Santa Claus float committee. Her craft ideas are always warmly welcomed as she has a vast knowledge of craft ideas and knows how to implement them successfully. Her participation on our annual Christmas float is favourably received and she can be counted on to suggest new and innovative ideas to the committee. Following the annual parade, she volunteers her time and supplies to give the children a face to remember (via her face painting).
Not only is Jean actively involved in leading our 55+ club, she also supports many other areas within the community. With her connection and involvement in the Canada Day festivities and Barnet Gardens, she encourages the participation from our 55+ club members and gets great response and participation.
She does not know the meaning of the word "no" and will stop what she is doing to help out whenever and wherever needed.
Jean exemplifies the spirit of volunteerism. She has demonstrated that she can lead a group or simply blend in and roll up her sleeves to get the job done, demonstrating her ability to be a team leader and a team player."
"Jean is a tireless volunteer at our church- St. Andrews United in Calabogie. Jean is officially our Secretary and Treasurer, which are both unpaid positions, but Jean goes above and beyond the required work. During Covid restrictions Jean determined where everyone could sit in church, at safe distances. She, alone, determined a safe seating plan, and placed markers indicating where each person could sit. She also typed and distributed newsletters each month to keep us in contact with each other when we couldn't meet in person.
Jean is an active member of the Worship Committee, which organizes special services- Easter, Christmas, Church Anniversary etc.
Jean produces the agenda and minutes for our Church meetings - session and board. She has also been the Chair of our 3 point charge meetings. She is instrumental in dealing with issues that arise, fund raising activities, and general planning. Our Church would be much less active in our local community without her zest and drive."
Group - Calabogie Food Bank
The following is a quote from the nomination form that was submitted for the Calabogie Food Bank.
"This organization, and the volunteers that run it, provide a much appreciated service providing food for families, individuals and seniors in need. The emphasis on health and individual dietary needs highlights the care that is put into collecting and distributing food for those in need in this community.
Our goal in nominating this organization is to bring awareness about the need for the food bank in this area, to recognize the work that the volunteers who run it do, and through awareness to encourage others in the community to get involved in this organization by volunteering or by donating."
Subscribe to this page