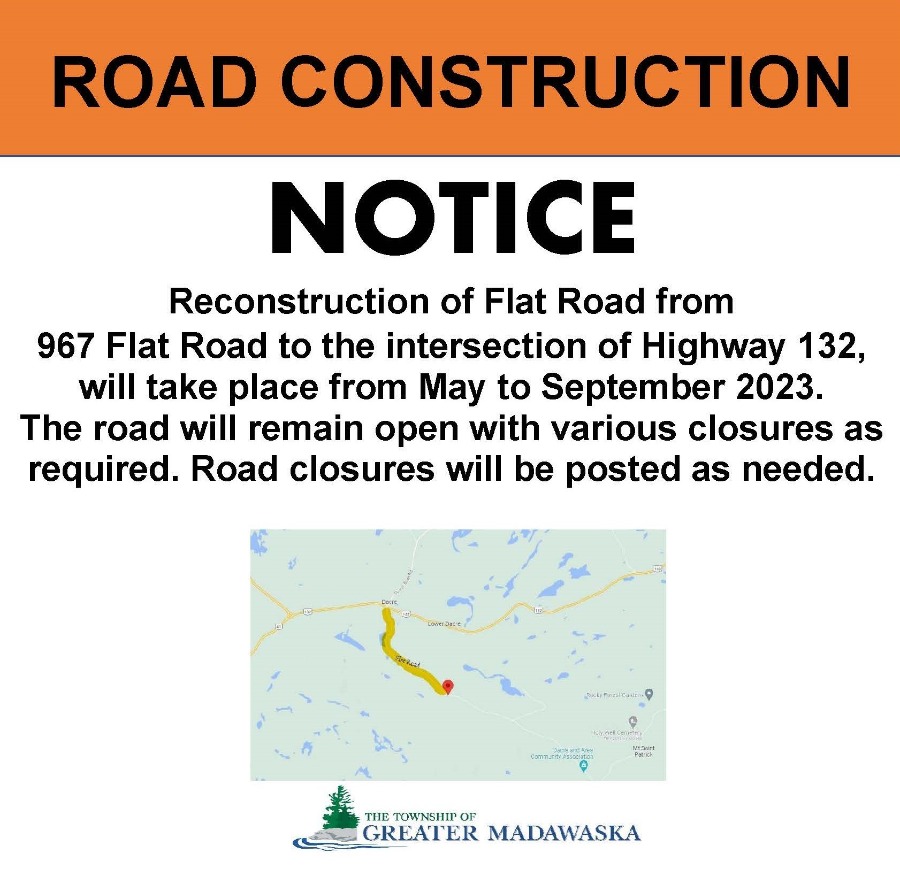 Posted on Monday, May 29, 2023 01:54 PM
Road Construction Notice
Reconstruction of Flat Road from 967 Flat Road to the intersection of Highway 132, will take place from May to September 2023.
Reconstruction will include pulverizing the current wear surface, adding granular, ditching, changing culverts, and applying a new wear surface.
The road will remain open with various closures as required. Road closures will be posted as needed.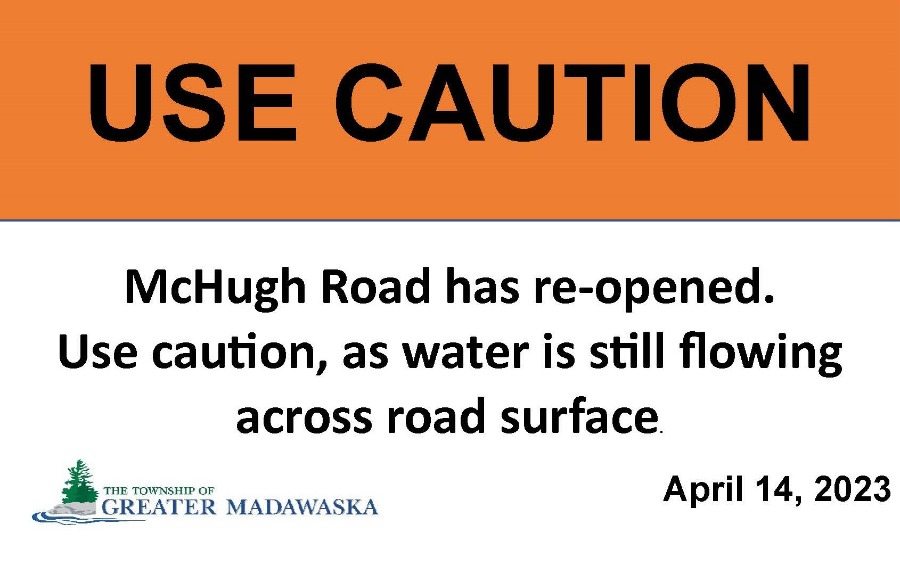 Posted on Friday, April 14, 2023 03:08 PM
Road Re-opened - McHugh Road has re-opened
Use Caution, as water is still flowing across road surface
April 14, 2023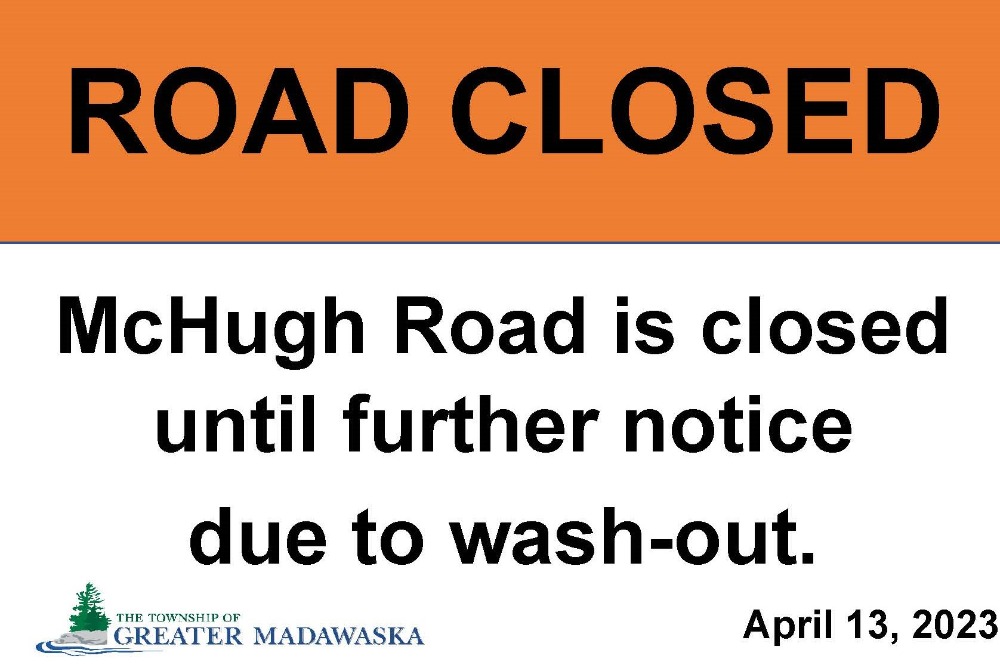 Posted on Thursday, April 13, 2023 09:25 AM
Road Closed Notice - McHugh Road is closed due to wash-out
April 13, 2023 - Until Further Notice
Posted on Thursday, September 01, 2022 10:39 AM
Ferguson Lake Road as been re-opened EFFECTIVE August 31, 2022 at 7:30 p.m.
Notice of Road Closure - Ferguson Lake Road
August 30 & 31, 2022
Ferguson Lake Road will be closed between County Road 508 (Calabogie Road) and Campground Sideroad for a culvert replacement.
Detour Route via Norton Road and Whelan Road.
In the event of inclement weather, the dates will be changed.
If there are any questions or concerns please contact
Steve Inwood, Public Works Supervisor
by email or by phone 613-752-1442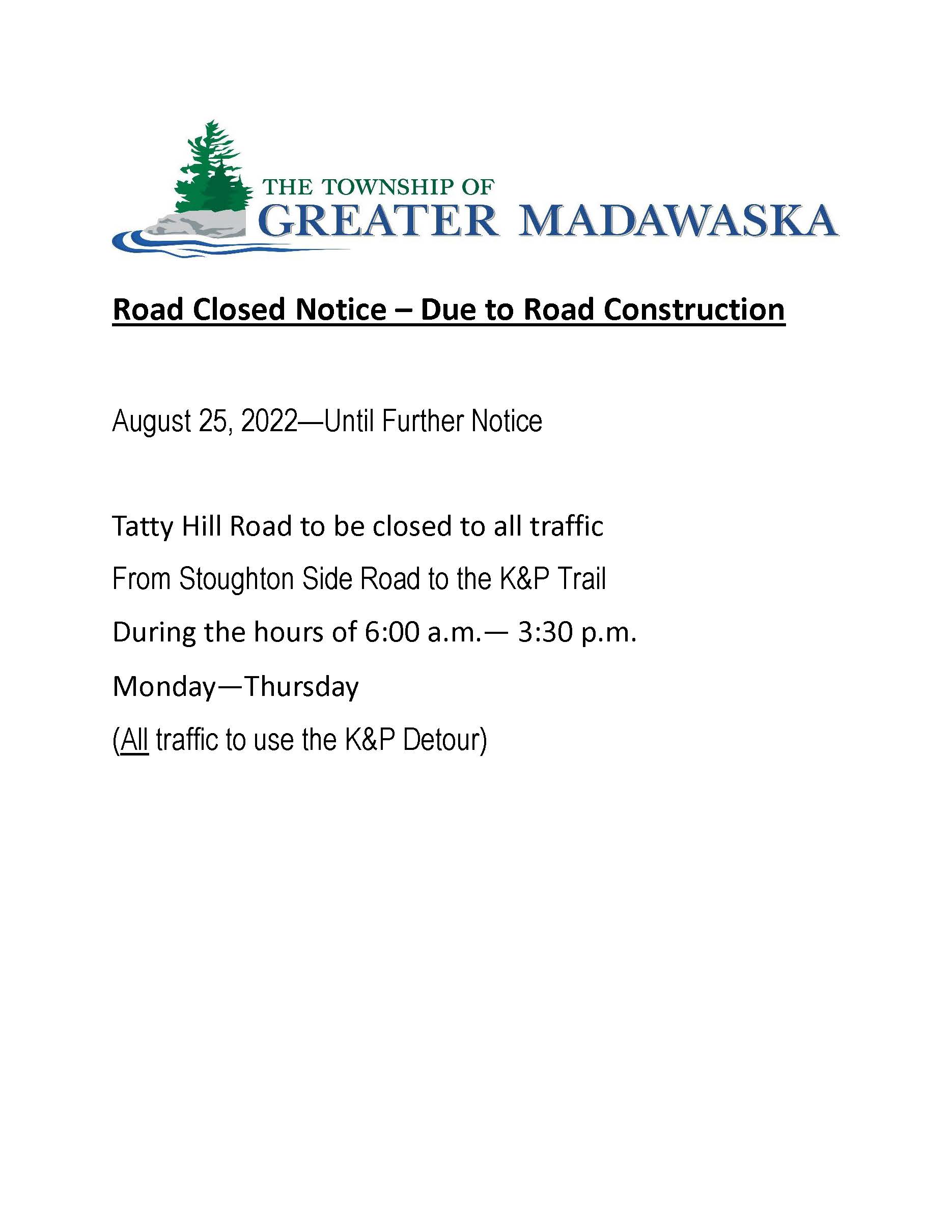 Posted on Wednesday, August 24, 2022 12:14 PM
Road Closed Notice - Due to Road Construction
August 25, 2022 - Until Further Notice
Tatty Hill Road to be closed to all traffic from Stoughton Side Road to the K&P Trail during the hours of 6:00am to 3:30pm, Monday to Thursday.
ALL traffic to use the K&P Detour.
Subscribe to this page