Canada Day 2022 in Greater Madawaska is going to be great!
Three communities have events planned for tons of family fun!
DACRE Friday July 1, 2022 1pm-Dusk
DACA Centre 111 Flat Road, Dacre
Minnow races, Bouncy castle, prizes, Canada Day Quiz, Balloon making, Horseshoe Tournament, Card Games, Fireworks, BBQ, snacks, Canada Day Cake.
For updates and more information, check the DACA Centre website and Facebook page.
CALABOGIE Friday July 1, 2022 8am-11am
Calabogie Community Hall
Pancake Breakfast, Hosted by The Greater Madawaska Public Library and Volunteers
CALABOGIE Friday July 1, 2022 4pm-10pm
Madawaska Street, Calabogie
Children's Activities, Bouncy Castles, Art Display, Magician, Balloon Artist, OpenMic, Displays, Bash Tent bring your injured stuffed animals, Food Court, Beer Tent, Live Band, Bingo, Fireworks display over Calabogie Lake and more.
CALABOGIE Friday July 1, 2022 7pm-10pm
Bandstand featuring: BUCKLEDOWN
For updates and more information check the Township website and Facebook Page.
MATAWATCHAN Saturday July 2, 2022 12pm-5pm
Matawatchan Hall, 1677 Frontenac Rd, Matawatchan
Live Music featuring The New Pickled Chickens and The Tallboyz, Beer Garden, BBQ, Baking, Petting Zoo, Kids Games, "Welcome Newcomers" Information Booths, Horseshoe Tournament 1:30pm, Fire Fighter Demonstrations, Historical Displays and more.
For updates and more information check the Matawatchan Hall Facebook Page or matawatchan.ca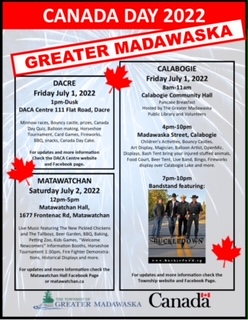 Subscribe to this page